OBJECTIVE: RELAXING FOR A HEALTHIER SKIN
End of holidays, back to school, work overload, change of season, worries … the reasons for stressing are not lacking, and the effects of stress on the skin are immediately noticeable. The skin is not only a reflection of our health, but also of our moods.
STRESS AND SKIN
Cortisol (the stress hormone) is secreted during stress peaks. It boosts the body to help us overcome unusual situations.
However, in chronic stress (active life, anxiety …) the constant production of cortisol disrupts the structures and metabolisms of the skin.
The visible and thus aesthetic repercussions do not take long to appear: brittle hair, dandruff, rapid variation of weight, thinner skin, dull, dry, loss of elasticity …
In the medium term, chronic stress may also trigger skin diseases such as certain dermatoses.
And as if that was not enough, cortisol slows the regeneration and healing abilities of the skin.
In the long-term, cortisol can therefore be responsible for the installation of morphological variations, which are also a source of stress: A real vicious circle.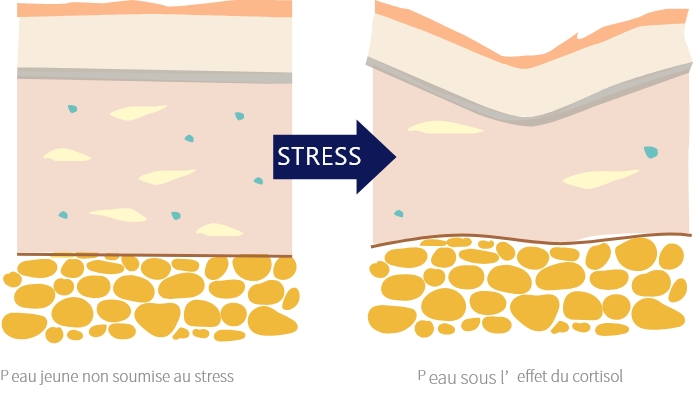 CONSUMERS' EXPECTATIONS
Decreasing the visible signs of skin fatigue

Preventing weight gain due to stress

Finding solutions for skin problems: reducing redness, optimizing regeneration, preventing and treating dermatitis
EXSYMOL'S ANSWER
To meet these expectations, Exsymol has developed a 3-step anti-stress response, which combines the effectiveness of SILANOLS and the neurocosmetic technology.
Step 1: Protecting the skin
Stress may cause:
A slow down of the skin's regeneration abilities
An increase of the sensitivity of the epidermis.
Dehydration
Transparency of the skin
A blurred complexion
Keratinocytes have filopods, cellular outgrowths, which role is key in the capacity of motricity cells. The filopodia are also the seat of the hyalurosome that controls the production of hyaluronic acid.
Cortisol specifically targets filopods and is responsible for their atrophy. Keratinocytes therefore lose their mobility and their ability to produce HA decreases. The skin is less hydrated, less protected and its capacity for regeneration (healing) is largely affected.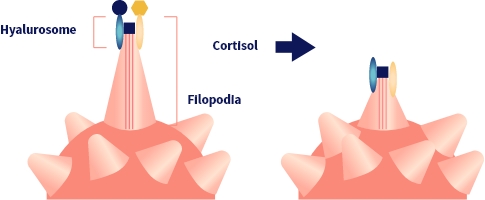 Step 2: Normalizing skin cell metabolisms
Oily skin
Stress induces an increase in sebum (in green) production by sebocytes. Cortisol is responsible for this overproduction.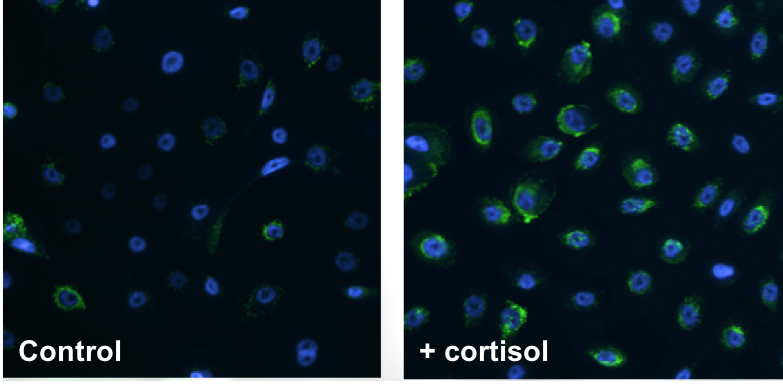 Regeneration (scar healing) slow down
The prevention or the treatment of dermatoses requires optimal regenerative capacities. It is the same for the healing process. Keratinocyte mobility and proliferation rate are essential characteristics to preserve.
Step 3: Take back control of its forms
Stress also induces a slowi down of the cell metabolism together with a collapse of both the dermis and the hypodermis.
Loss of firmness and elasticity
Fat accumulation

Adipose tissue is very sensitive to cortisol. In times of stress, weight gain is often observed.

Our solutions at your disposal