OBJECTIVE: PROTECTING THE SKIN FROM GLYCATION FOR MAINTAINING ELASTICITY AND SKIN TONE UNIFORMITY
Glycation is also known as the Maillard reaction. It is a reaction between proteins and sugar (carbohydrates) which leads to irreversible binding of proteins to each other.
GLYCATION AND SKIN
Glycation is a reaction that will have an impact on the skin. Proteins of the dermis (mostly the collagen fibers) will react with free sugars (mainly glucose) which will lead to their reticulation (crosslinking), i.e. their irreversible bonding of the fibers to each other.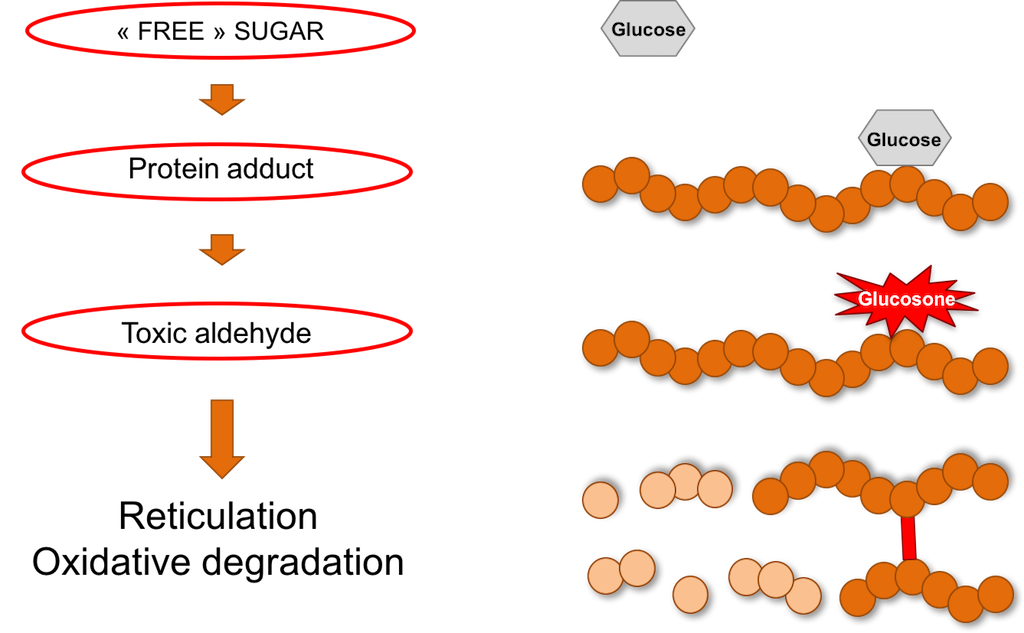 In the dermis, collagen fibers form a network which interactions and movement with one another provide good elasticity and flexibility to the skin. Crosslinking will therefore greatly reduce the fibers' motricity and thus the skin elasticity and flexibility.
Glycated fibers are also going to get colored which will participate in the loss of a uniform complexion.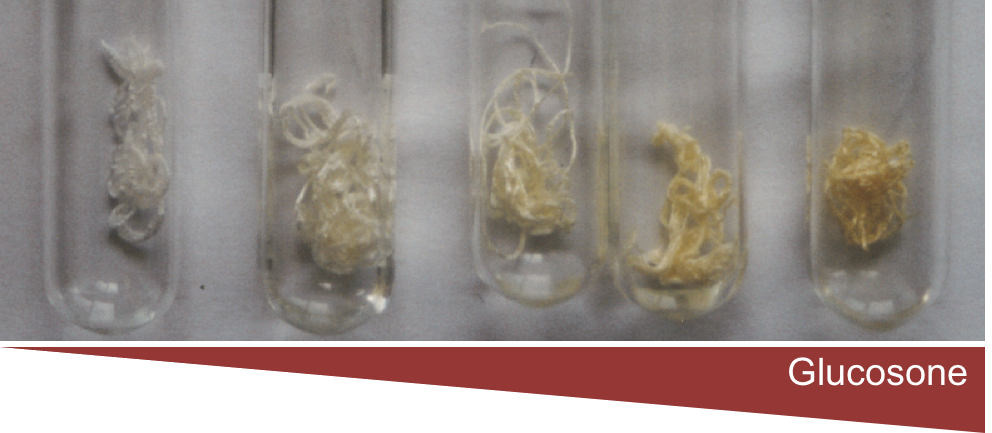 Finally, the glycated proteins will be metabolized into AGEs (advanced glycation endproducts) which are both pro-glycants and mutagenic agents. They will affect skin cell survival.
CONSUMER'S EXPECTATIONS
Protecting the skin from glycation

Preserving the skin flexibility and elasticity


Preserving skin tone uniformity
Protecting skin cell integrity 
EXSYMOL'S ANSWER
In order to combat glycation, Exsymol has developed a 3-step strategy.
Step 1 – Prevention: Preventing the sugar from reacting with collagen fibers
Scavenging free sugars within the dermis
Scavenging free sugars before they react with collagen fibers protects the skin preventively from the effects of glycation.
Limiting the attachment of sugars to collagen fibers
Silicium has a high affinity for collagen fibers. By interacting with them, it will limit the sites of sugar fixation on the fibers.
This will thus reduce glycation in a preventive way.
Step 2 – Repair: Dissociating sugar from the collagen fibers
Transglycation makes it possible to repair the already glycated fibers
In the case of glycation, the bond between sugar and a protein is irreversible. Exsymol has developed an active ingredient capable of transglycation. It is capable of substituting itself to the collagen fiber and thus to release it, to repair it.
Step 3 – Palliation: Protecting the skin from the effects of AGEs
Glycated proteins are degraded and generate AGEs (advanced glycation end-products) which will cause a de novo glycation, and which can degrade the surrounding cells' DNA due to their highly mutagenic nature.
Limiting the effect of AGEs, even after the glycated protein has been degraded.
Limiting the impact of AGE prevents de novo glycation. This ensures good flexibility and good elasticity to the skin, but also good uniformity of the complexion.
Since AGEs are also extremely mutagenic, DNA is protected from dermal cells to ensure their survival and proper functioning.
Our solutions at your disposal