OBJECTIVE: ENSURING A GOOD ELASTICITY AND RESISTANCE TO THE SKIN
Skin elasticity, flexibility and resistance are controlled by the interactions between the structure elements of the skin (collagen fibers, elastin, the GAG …) and the cells which compose it (fibroblasts .. .). These interactions determine the biomechanical capabilities of the skin.
Fibroblasts ensure the biomechanical properties of the skin
Fibroblasts have a dual activity: they synthesize collagen fibers (and thus provide a good density to the skin), and organize them through their contraction capabilities (thus providing good elasticity and flexibility to the skin).
Over time, fibroblasts synthesize fewer collagen fibers, and their ability to organize them decreases.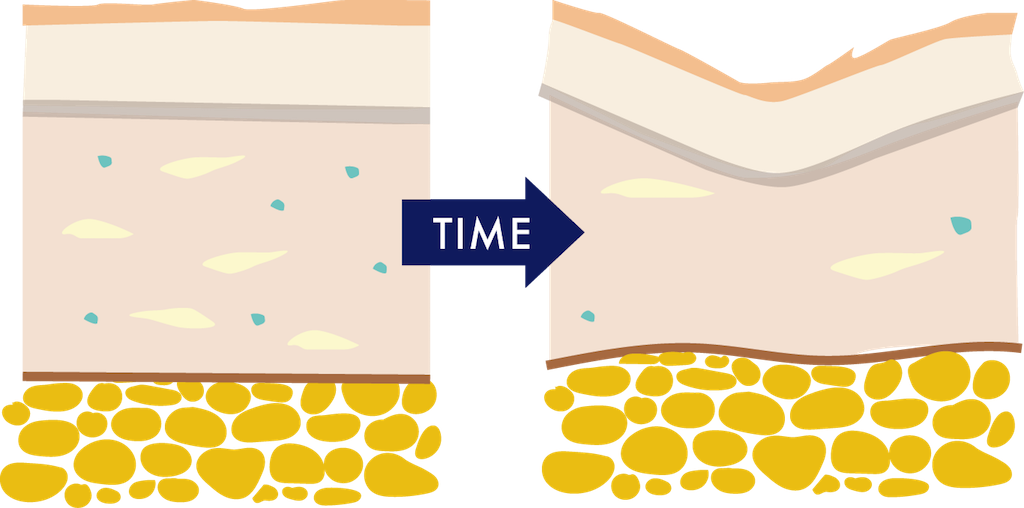 CONSUMERS' EXPECTATIONS
Keeping or regaining an elastic, flexible and toned skin

Increasing collagen synthesis

Improving the stretching and contraction abilities of fibroblasts

Strengthening the bonds between fibroblasts and collagen fibers
EXSYMOL'S ANSWER
Silanols – Exsymol's signature line – are a family of active ingredients whose members share the same core of organic silicon. Silicon will greatly improve the biomechanical capabilities of the skin by playing both on the fibers of collagens, but also on the ability of fibroblasts to organize them.
Step 1: Increasing the number of collagen fibers
Stimulating the ability of fibroblasts to synthesize collagen fibers
By stimulating collagen synthesis by fibroblasts, the skin density is increased.
Step 2: Improving collagen fibers organization
Improving the ability of fibroblasts to organize collagen fibers
With time, fibroblasts atrophy, they become smaller and rounder. Their contraction capacity decreases which leads to a drop in tension of the fibers and to a loss of elasticity and flexibility.

By allowing fibroblasts to recover their capacities of elongation and of contraction, they bind firmly to the fibers and rearrange the fibers for toning the entire skin tissue.
Nerve cells are major players in cell communication as they support the activity of all skin cells. Healthy nerve cells provide good fibroblast contraction capacity.
Strengthening the interactions between collagen fibers
Because of its high affinity for collagen, silicium will bind to fibers and provide physical support between collagen fibers, and also with other structural elements (elastin and GAG).
Our solutions at your disposal