OBJECTIVE: TO CONTROL THE AMOUNT OF STORED FAT
Fat control is ensured by three mechanisms:
Adipogenesis – synthesis of adipose tissue
Lipogenesis – absorption and storage of fats
Lipolysis – fat excretion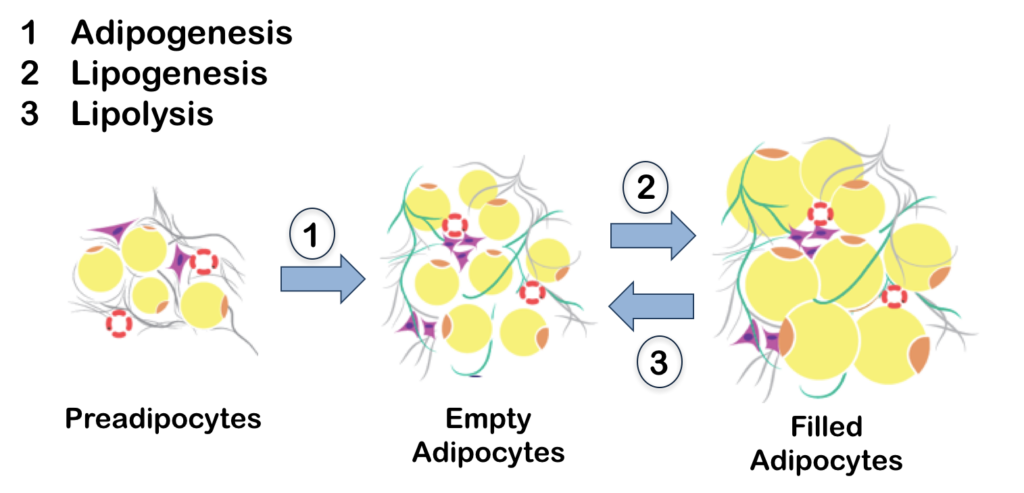 These three mechanisms occur in adipocytes but have very different regulatory mechanisms.
Lipolysis allows the degradation of triglycerides
In adipocytes, fat is stored as triglycerides within lipid droplets. It is degraded into fatty acid and glycerol by the action of an enzyme: triglyceride lipase.
Triglyceride lipase is activated by cyclic adenosine monophosphate (cAMP). The latter is synthesized from ATP by adenyl cyclase and is degraded to 5'AMP by the phosphodiesterase.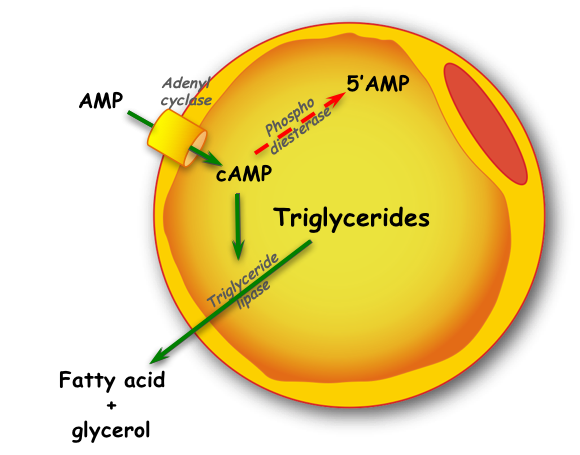 CONSUMERS' EXPECTATIONS
Controling the amount of stored fat
Increasing the amount of excreted fat
EXSYMOL'S ANSWER
To meet these expectations, Exsymol has developed active agents that stimulate lipolysis. This increases the fat excretion for a firmer and a slimmer silhouette.
Increasing lipolysis for maximizing fat elimination
Stimulating adenylcyclase for increasing cAMP synthesis
By stimulating the activity of adenylcyclase, the amount of cAMP synthesized and therefore the amount of triglyceride lipase responsible for cleaving triglycerides into fatty acids and glycerol is increased.
Inhibiting phosphodiesterase for maintaining the amount of cAMP
By inhibiting phosphodiesterase, degradation of cAMP into 5'AMP is avoided. This ensures a good activation of the triglyceride lipase. Xanthic bases are known to inhibit phosphodiesterase.
Stimulating lipolysis for a slimming effect
By stimulating lipolysis, it reduces fat for a refined silhouette.
Improving cell communication helps increasing lipolysis
Nerve cells from the hypodermis stimulate the lipolytic activity of adipocytes
Nerve cells play a key role in cell communication. In the hypodermis, they promote the lipolytic activity of adipocytes.
Ensuring the survival of the nerve cells in the hypodermis ensures good lipolysis for a slimming action.
Our solutions at your disposal