Slimming
Stimulating lipolysis, stabilizing lipogenesis
Improving the tone of the dermis – firmness
Anti-aging (prevention) + regenerative (repair)
Metabolic stabilization and optimization of cellular communication
Your needs
Age, diet and lifestyle have an impact on our bodies.
Age is responsible for a slowing of the metabolism. Fibroblasts produce less collagen (loss of elasticity and slacker tissue) and adipocytes release less fat.
In addition, fibroblasts and adipocytes come from the same mesenchymal stem cells (MSC). Hormonal changes favor a differentiation of MSCs into adipocytes rather than fibroblasts.
Over time, we tend to accumulate more fat, while the skin no longer has the necessary tone to counteract the effects of gravity (neck, breasts, bulges, etc.).

Diet and our behavior also have a considerable impact on the quantities of fat that our body stores. The more we eat the more we store, and the less we practice sport, the less we eliminate.
The objective is therefore to offer a comprehensive slimming approach:
Increase the elimination of fats (lipolysis)
Good tissue maintenance (elasticity, density, firmness)
EXSYMOL's answer
How it works
Adipocytes are located in the hypodermis which is the deepest layer of the skin. The combined action of silicon and caffeine significantly stimulates adipocytes' lipolytic activity.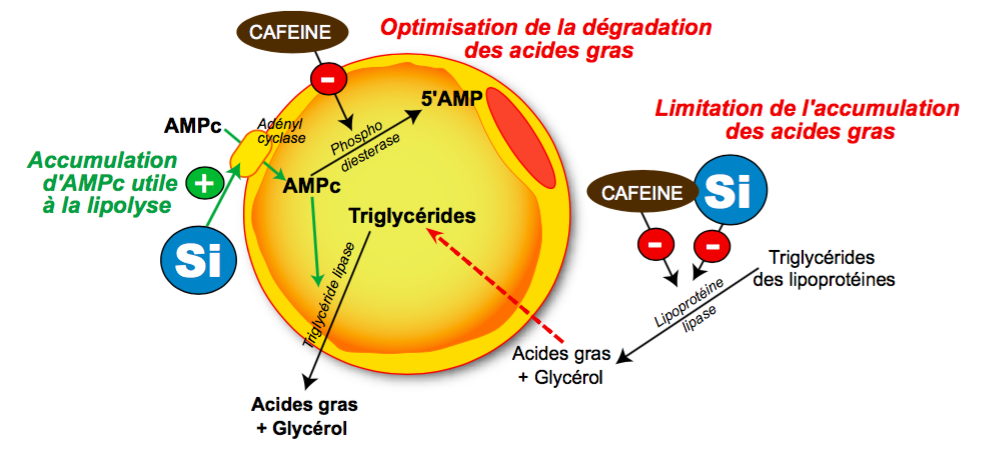 In the dermis, the silicon contained in CAFEISILANE stimulates the proliferation and activity of fibroblasts. This increases the synthesis of collagen fibers for more compact and firmer skin.
The silicon in CAFEISILANE maintains collagen fibers, combats the effects of gravity and provides good skin elasticity
General properties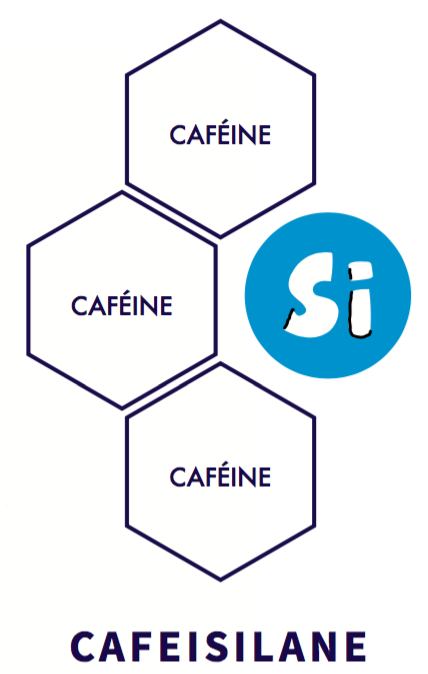 CAFEISILANE (INCI name: SILOXANETRIOL ALGINATE (and) CAFFEINE) is a silanol specializing in slimming. It has a core of organic silicon which potentializes the potentialized caffeine with which it has been combined.
The organic silicon restructures the skin and balances the metabolisms of all skin cells providing an overall action on skin. Silicon also plays the role of vector and increases penetration, bioavailability and thus caffeine's action.
The potentialized caffeine has the capacity to penetrate more quickly and in larger quantities to foster lipolysis.
The overall action of CAFEISILANE on the epidermis, the dermis and the hypodermis have maximum slimming and firming effects.
Cosmetic benefits
Consumer benefits
Soothing effect
Firming effect
Hydration
Softness
Reduction in orange peel effect
Skin protection
Firmness, density and elasticity
Eye area: acts against under-eye bags
Skin benefits
Restructuring the skin
Stabilizing the hypodermis
Stimulating lipolysis
Reducing lipogenesis
Reducing adipogenesis
Stabilizing the epidermis
Stimulating keratinocytes
Stabilizing the dermis
Stimulation of fibroblasts
Collagen synthesis
Optimizing the dynamic link between fibroblasts and elastic fibers
Stabilizing the structure of the dermal-epidermal junction
Improving biomechanical properties
Optimizing cellular communication
Customer benefits Original concepts:
Active ingredient for different ranges – multifunctional active ingredient: Slimming, anti-aging, dermocosmetics
Skin care responding to skin's needs
Skin preparation to optimize the effectiveness of another active ingredient
Potentialized caffeine
Can claim a high percentage "derived from caffeine"
Easy formulation (stable, colorless, odorless)
High caffeine content (possible appearance of caffeine crystals that can be re-dissolved by gently heating at 40°)
The expert's opinion
CAFEISILANE is a multi-functional anti-aging active ingredient because it first meets the skin's needs
CAFEISILANE doesn't seek to meet only one of your skin's needs, but all of them! It can thus handle any situation.
The combination of the organic silicon core and caffeine makes CAFEISILANE a multi-functional active ingredient maximizing lipolytic action of adipocytes in the hypodermis. Tested (in vitro and in vivo) and approved worldwide, it is appropriate for all types of cosmetic products.
CAFEISILANE increases the bioavailability of caffeine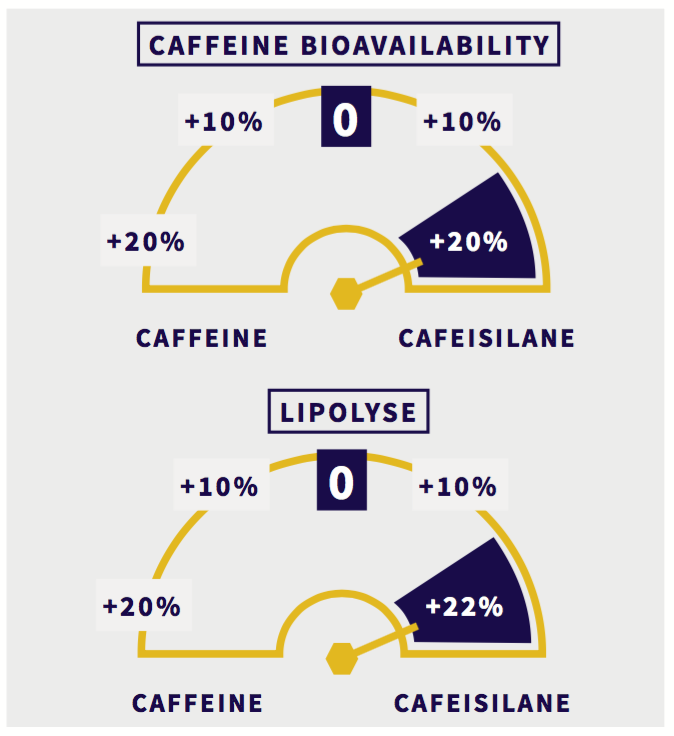 De par son effet vecteur le silicium confère à la caféine une pénétration plus rapide et en plus grande quantité. Cela permet notamment de maximiser l'effet lipolytique.
CAFEISILANE for an overall slimming approach
The metabolism of fats is divided into three steps:
Adipogenesis: pre-adipocytes mature into functioning adipocytes
Lipogenesis: empty adipocytes are filled with fat
Lipolysis: adipocytes release accumulated fats
Cafeisilane acts on the whole of this mechanism for full control of fat storage.
CAFEISILANE around the eye
Under-eye bags can be due to an accumulation of plasma, but they can also be due to an accumulation of fat.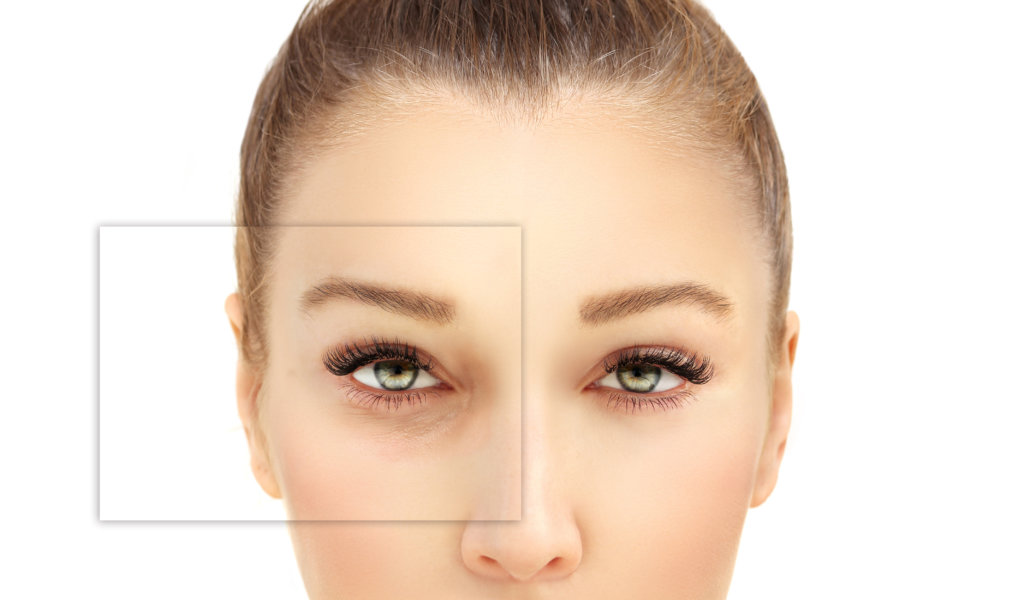 By stimulating the lipolytic action of adipocytes in this area, the volume of under-eye bags can be reduced.
In addition, silicon's restructuring and stimulating action allows crows' feet to be smoothed out.
Caffeine and acetyl-theophiline, 2 xanthic bases with similar effectiveness
We offer an alternative to CAFEISILANE, THEOPHILISILANE. The same mechanism and the same performance for those who want to make a change or have an alternative to the caffeine approach.