Anti-aging (prevention) + regenerative (repair)
Stimulates cells in the epidermis to provide better hydration and protection
Acts on cells in the dermis to provide a plumping effect
Hydration, anti-dehydration and immediate comfort
Long-term effect from potentialized and stabilized hpm hyaluronic acid.
Your needs
Dry skin and discomfort are accentuated with age and environmental stress.
It is often a vicious circle: damaged and dry skin is less well protected, more and more sensitive, and its capacity to regenerate diminishes while discomfort and inflammation increase.
The epidermis, the protective top layer of the skin no longer plays its role.
The barrier function (including the hydrolipidic film) is no longer enough to avoid skin becoming dry or to protect it.
Over time, damage spreads to the various skin compartments and tissue gets slacker. Cells wear out, and the overall structure of the skin is disrupted. It gets thinner and drier, and loses density and elasticity.
The objective is thus to protect the skin and preserve hydration and the quality of the epidermis, a shield which limits overall premature aging of the skin.
EXSYMOL's answer
How it works
Firstly, the skin needs soothing with instant action on the epidermis, and dehydration and the sensation of discomfort need to be minimized. DSH forms a film on the surface of the skin and offers long-term protection all day long.
Secondly, DSH stimulates keratinocyte proliferation and activity. The epidermis gets thicker and regains optimal functioning: in particular an efficient barrier function which prevents significant water loss.
The silicon contained in DSH has an overall action, especially by:
ensuring that collagen fibers are maintained to combat the effects of gravity and provide good skin elasticity.
stimulating fibroblasts in the dermis which synthesizes more collagen for more compact and firmer skin.
Protected and soothed on the surface, the skin is gradually regenerated to combat any situation that can give rise to dehydration and/or discomfort.
Restructured tissue = better hydrated skin: Silicon's action has a restructuring effect on skin layers for better "hydratability". DSH acts in depth for optimal surface hydration.
General properties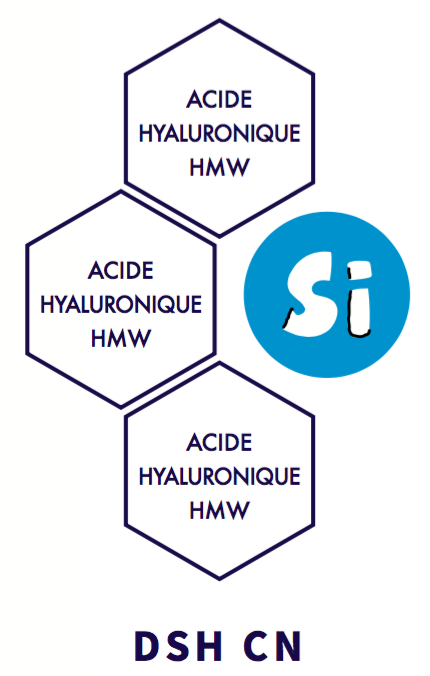 DSH (INCI name: DIMETHYLSILANOL HYALURONATE) is a silanol specialized in immediate, durable hydration. It has a core of organic silicon which potentializes the high molecular weight hyaluronic acid (>2MDa) with which it has been combined.
The organic silicon restructures the skin and balances the metabolisms of all skin cells, providing an overall action on the skin. DSH optimizes hydration and prevents dehydration in the long term.
More resistant to enzyme degradation through the action of silicon, high-molecular weight hyaluronic acid offers long-term protection with its filmogenic effect and significantly reduces TEWL.
Cosmetic benefits
Consumer benefits
Long-term hydration
Anti-dehydration
Firmness, tone
Anti-wrinkle
Lifting effect
Long-term effect after application
Long-term effect after treatment
Skin benefits
Overall restructuring
Stabilizing the epidermis
Stimulating keratinocytes
Synthesizing hyaluronic acid
Stabilizing the dermis
Stimulating fibroblasts
Collagen synthesis
Optimizing the dynamic link between fibroblasts and elastic fibers
Stabilizing the structure of the dermal-epidermal junction
Improving biomechanical properties
Optimizing cellular communication
Customer benefits Original concepts:
Active ingredient for different ranges – multifunctional active ingredient: hydrating, anti-aging and dermocosmetics
Skin care responding to skin's needs
Cutaneous preparation to optimize the effectiveness of another active ingredient
Potentialized and stabilized hyaluronic acid
Easy formulation (stable, colorless, odorless, etc.)
Long-term consumer satisfaction
Like a protective invisible glove (filmogenic effect)
Sensory benefit
The expert's opinion
DSH offers a long-term effect after application
Hyaluronic acid potentialized by organic silicon resists deterioration of hyaluronidase, the skin surface enzyme. Through its filmogenic effect, DSH offers the skin protection, hydration and comfort all day long.
DSH offers a long-term effect after treatment
DSH restructures the skin and helps to generate deep and stable hydration. Filmogenic protection prevents dehydration, while biological stimulation of DSH's silicon increases natural hydration of the skin. Clinical trials have proved that after treatment, skin is less sensitive to dehydration.
DSH has a unique feel
DSH formulations provide a silky and soft sensorial effect. SILANOLS are well known for being active ingredients that are easy to formulate, and can also improve the sensorial experience of a finished product.
DSH to care for, protect and repair hair
DSH's organic silicon reinforces fragile cuticles by restructuring and improving good keratin cohesion.
HPM hyaluronic acid envelopes the cuticle and plays the role of a shield.
DSH helps to obtain stronger and more resistant hair, which is better hydrated and shiny, and potentially more resistant to photo-oxidation.